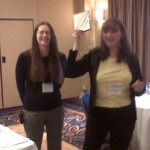 Digital Forensic Specialist Elise Feetham (pictured left) with the New England State Police Information Network, was the lucky winner of a WebCase license by Vere Software on March 24, 2011 at the SHIFT Regional Training at the Marriott Courtyard in Marlborough, MA.
WebCase® was designed by experienced law enforcement professionals to help you collect Internet information in a usable, evidentiary, reportable manner. The software is an easy to learn, easy to use solution that changes the way investigators locate, collect, manage, and present online evidence.
The Massachusetts Regional SHIFT Training, team taught by Lt. Kristian Carlson, Commander of the Burlington, Vermont Police Department's Internet Crimes Against Children Task Force (VT-ICAC) and Dr. B. Anne Balboni, Coordinator/Director of the Rhode Island Critical Incident Stress Management Team, offered professionals who are exposed to child sexual abuse and torture images and who may interact often with child sex offenders (e.g., law enforcement officers, forensic analysts, prosecutors, etc.), the opportunity to learn about the causes and symptoms of the negative effects that may occur as a result of their duties and ways to mitigate them.
Mental health professionals learned about the challenges faced by professionals exposed to child pornography and other operations involving child sex offenders.  
For a list of upcoming SHIFT Trainings, please visit www.shiftwellness.org.